SONG SCHOOL (SONG WRITING)
Through artistic education you can transform your life.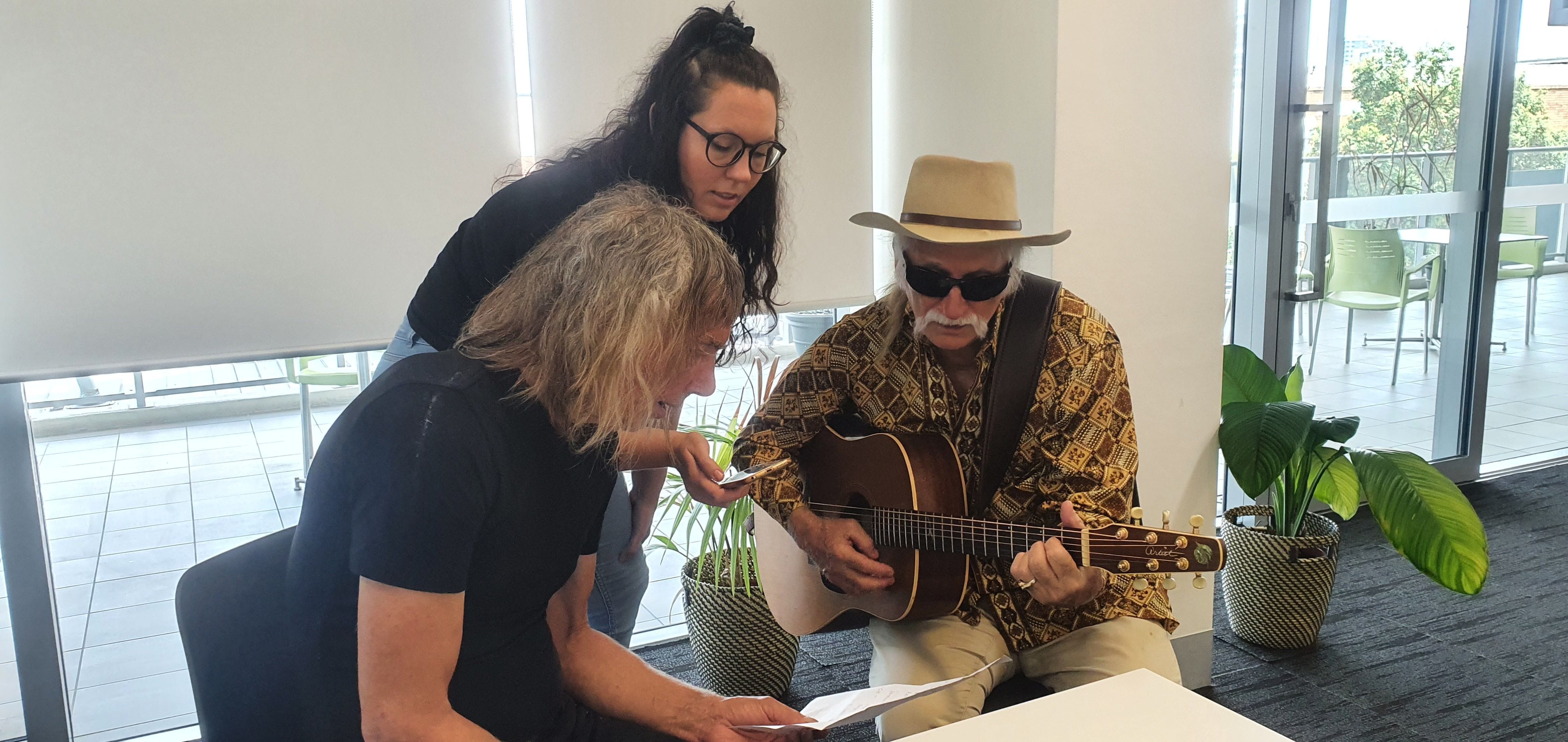 Key Information: Tuesday 10 - 11:30am weekly | South Brisbane
About Song School
Have you ever thought about what makes a song popular?
In Song School we discover the who, what, when, where and why of songs. What makes them great, why do they stick in your head? Learn about how songs are made, explore the history of song, deconstruct a song through listening and understanding the song form, create clever and fun or inspiring lyrics and along the way learn some tips and tricks to improve your vocal skills.
This unique program teaches you to develop an appreciation of the form of a song, it encourages you to stop and actively listen to a song and to others. Using your own voice and ideas, it will help to develop your mental agility and improve objectivity and social skills. You will use these skills to collaborate with other members to write songs most weeks and you can of course take the skills home to write your very own songs.
You don't have to be a musician to write your own song or appreciate what songs bring to the world!
Do you play an instrument? If you can, you're encouraged to bring it with you.
We're always ready to welcome new members to Song School. Join us using the JOIN button above and see what it's all about.
Teacher Mandi Geary would love to see you there.
Who can join and how much?
Our programs are delivered for the benefit of adults experiencing a mental illness, or anyone disadvantaged or marginalised. Members can attend at no cost - however we ask applicants to include on the application form, basic details of their mental health diagnosis and information about who is supporting them and/or who the referring organisation is. This might be a clinician from Queensland Health, a support worker from a non-government mental health service, or details of support being received from another mental health, disability or drugs and alcohol support service. There's an option to include their medical professional or GP if not working with any of the above. Refer to our application form for all the details.
Benefits
These unique programs can help in enhancing self-awareness, self-expression and communication skills and our members often report improvement in their mood, confidence and self-esteem. You'll learn new skills from professional educators and meet new people.
What's next
Once we've received your Application Form, we'll send you an email to confirm your place in the program/s you've chosen. This email will include the venue details, how to get there, what to bring and what to expect.
If you're feeling a little anxious....we think that can be pretty normal for a lot of people. Remember, everyone in the room was once where you are now - brand new! All we ask is that you do your best. It's ok to bring a support person with you, just let us know their name ahead of time if you can. If you can only stay a short time on the first visit, that's ok too!
We also encourage you to come along two to three times before deciding if the group is right for you. Joining a new group does take time - allow yourself time to settle in and get to know the others and the Upbeat Arts team.
2023 Dates
Our programs run in line with Queensland Public School terms, and are not held on designated public holidays:
| | |
| --- | --- |
| Term 1 | Monday 23 January - Friday 31 March |
| Term 2 | Monday 17 April - Friday 23 June |
| Term 3 | Monday 10 July - Friday 15 September |
| Term 4 | Tuesday 3 October - Friday 8 December |
Need more information before joining
JOIN now, or if you have further questions, please email us.